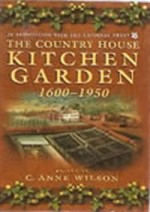 The Country House Kitchen Garden 1600-1950
How produce was grown and how it was used.
Particularly useful for those interested in the early development of kitchen gardens. divided into two sections: 'The Garden' and The Produce'. The book is a compilation of chapters each of which is contributed by a specialist, such as 'The Walled Garden at Shugborough' by Simon Sekers and 'Glasshouse and Frames 1600-1900' by Susan Campbell. Well illustrated throughout, there is also a useful list of National Trust properties that have walled kitchen gardens.
Available to buy from: Amazon
Sutton Publishing Ltd in association with the National Trust, 1998