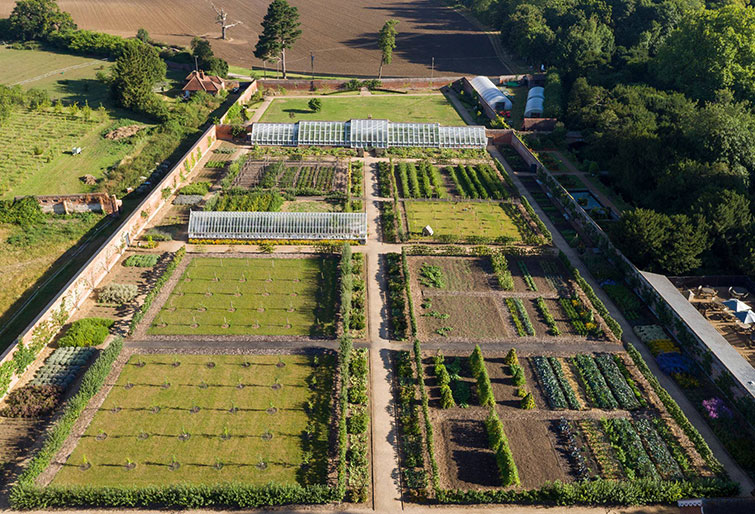 Forum 2020 – Audley End, 3rd October
There is still some uncertainty about the possibility of our Forum taking place at Audley End this year, and so we have decided with them to postpone it until some time next year, 2021
But the good news is that an equivalent event, a European Symposium on Kitchen Gardens, organised by The Walled Kitchen Garden Network in conjunction with Les Potagers du France and Les Amis du Potager de Roi is definitely taking place at Chambord in France on the 15th and 16th of October, this year.
Contributors include our old friends Jim and Sarah, talking about West Dean, and Chris and Karen, representing Croome, with videos from Susan Campbell.
Details of the Symposium are below, and we will be very happy to see anyone who can make the trip to France to join us there.
European Symposium on the Conservation of historic fruit and kitchen gardens – Chateau de Chambord, 15 October 2020
Registration for this event is now open and we hope that many of you will be able to attend. The Symposium is free to attendees, thanks to the generosity of the hosts – Domaine de Chambord enabling the event to take place in the Chateau de Chambord.
We have been working (mostly during lockdown) with the Amis du Potager du Roi and Potagers de France to bring together owners and managers from some of Europe's finest historic fruit and kitchen gardens from with the aim of establishing a catalogue of good practice for ensuring the conservation and future of historic fruit and kitchen gardens. Sharing experience and knowledge, it is a unique opportunity to reflect on specific conservation issues and challenges posed by these gardens today, and how historic kitchen gardens across Europe, might continue the revival they have undergone over the last 20-30 years.
Susan Campbell will introduce and co-chair the event alongside Alix de Saint Venant, (Potagers de France and owner of Chateau de Valmer), with presentations in gardens management, restoration and conservation also from :
Jim Buckland and Sarah Wain – West Dean; Henri Carvallo – Chateau de Villandry; Serge Conreur and Thierry Hay – Abbaye Saint Georges be Boscherville; Chris and Karen Cronin – Croome Walled Garden; Muriel de Curel – Chateau de Saint Jean de Beauregard; Dominique Popihn – Chateau Colbert; Stephane Repas Mendes – Chateau Prangins; Ghislain d'Ursel – Chateau d'Hex; Herman Van den Bossche and Marcel Vossen from Gaasbeek.
Details on the Symposium can be seen here:
Registration form here: