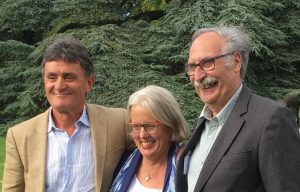 Jim Buckland and Sarah Wain with Peter Thoday, presenter of the BBC's "The Victorian Kitchen Garden" 
In 1991, in the aftermath of the Great Storms of 1987, Jim Buckland and Sarah Wain began a programme of renovation works at West Dean Gardens. They are the inspirational leaders of the garden team, bringing zeal, imagination, deep horticultural knowledge and an ever-growing understanding and enthusiasm for the gardens and its history. (West Dean 2017)
The walled garden is a fabulous Edwardian kitchen garden with thirteen fully stocked period glasshouses and plant houses, frames and pits, fruit house, herbaceous borders, zig-zag fruit wall, Heritage fruit and vegetable collections, tool and mower collections.
2016 marked 25 years since Jim and Sarah began the gardens' transformation and since 1991 they have overseen huge changes resulting in the beautiful gardens they are today. We are delighted and grateful to both of them that they are welcoming us back to West Dean for a second time after 10 years.
To read more about the gardens, go to: https://www.westdean.org.uk/gardens/about/history
Sussex has some of the most beautiful Walled Kitchen Gardens and among those we will visit on Sunday, will be Petworth, by kind invitation of Caroline, Lady Egremont and Whithurst House, Kirdford.
There will be other gardens, to be confirmed in due course.
Lucy
Booking form – West Dean 2017 PDF
Lucy Pitman, 19 Bishopstrow, Warminster, Wiltshire BA12 9HN
01985 847408 / email lucypitman@virginmedia.com  www.walledgardens.net