14th and 15th October 2022
A Retrospective – the Renaissance and Revival of the Walled Kitchen Garden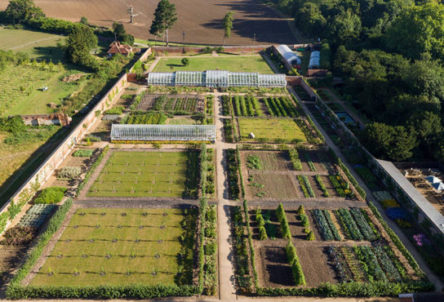 Dear Friends
Booking is open!
We are very happy to confirm the dates for our long overdue Forum at the wonderful walled kitchen garden at Audley End, Saffron Walden in Essex, a jewel of the English Heritage crown
This time we are meeting on Friday and Saturday – on Friday 14th Oct. we will be at Audley End, Head Gardener Louise Ellis and the Kitchen Gardens team with us for the day.
We will be visiting other walled gardens on Saturday 15th Oct.
To celebrate this 21st anniversary of the Walled Kitchen Gardens Network we will be looking back at the extraordinary revival of these gardens over the last 20-30 years, and forwards to opportunities for the future and some amazing work in gardens now being brought back to life as productive gardens.
We will send full details soon – speakers for Friday 14th October at Audley End, and details of the gardens we'll visit on Saturday 15th.
Although it has been great to have seen so many of you on Zoom over the last 2 years, we really haven't seen most of you or met new friends for a long time, so we hope to see lots of you in Audley End in October!
Please sign up using the registration form here: