Apple blossom in the air
Wonderful to see our new apple trees flowering their socks off despite this last fiercely cold week with winds that made us all think it was January rather than the start of spring.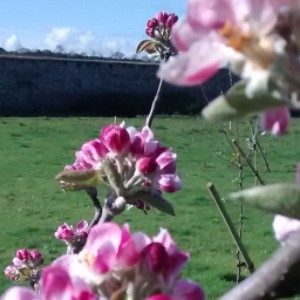 Our volunteers have made an excellent job of planting all our new trees completing half of our new orchard – all beautifully set out and looking very neat and tidy – we will be labelling up individual trees with your names on them and tree friends are very welcome to come and visit the garden to see their trees in place.
To continue the planting of our orchard and to enable us to buy and plant up our soft fruit, including strawberries, raspberries and currants we applied to this scheme and are delighted to be included in next months voting in the Haddington Tesco store.
Voting will begin in May and runs through into June so don't miss the opportunity to vote for our project and make sure you get your blue token when you're doing your shopping!
Bags of Help is Tesco's exciting local community grant scheme making great use of the 5p bag charge
Administration of the local funding is being managed by the community charity with a green heart, Groundwork, which specialises in transforming communities and the local environment for the better.
We are really pleased to announce the launch of our new website for the garden – click on the link below to have a look and do get in touch if you have any comments or ideas.  We are planning to add quite a bit to the site over the coming months so your thoughts would be most welcome.
                                                       www.gilmertonhousekitchengarden.org 
                        Willow bed planting
Our new willow beds are almost finished and a hard job over the last couple of weeks.We have ten different varieties in here with thanks to Jane Will of Myreside Willow who very kindly allowed us to make cuttings in November.  Willow is very fast growing and we are looking forward to seeing how these develop over this year.
Planted in rows through weed mat we should have enough willow to makes some nice garden decoration in a year's time!

Garden clearing
This strange photo is not some new form of Scottish Country dancing… rather the careful clearing of the garden strip by strip so we can cut some of the areas around our beds with machinery.
We've uncovered a huge amount of rubbish including broken glass and wire already from the garden and this methodical clean up should get the last of it out by the end of the month.
As ever a huge thank you to everyone for their hard work throughout April – the garden really is transforming very quickly and I think everyone can see the results of their efforts and the changes being made.  I cant wait to see how things progress in the warmer weather and have no doubt that we'll all be in our shorts soon..
June Tainsh, Project manager
june@gilmertonhouse.com
tel 01620880207