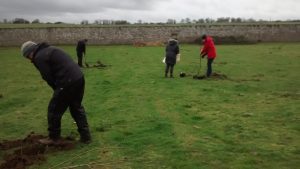 Orchard beginnings…
Its wonderful to see the start of our tree planting in the garden – we are setting out and planting our new orchard, some of the trees already purchased by our new members last December. If you haven't yet been sent your certificate these will be coming out by the end of the month.
The soil is quite compacted in this part of the garden so we will be digging biggish holes for these new trees and mixing the soil with lots of good organic matter before they go in. Our thanks to Diana Simcock for her generous contribution of a bulk bag from Garden Solutions to dig in for these first trees.
The weather has been blowy, to put it mildly, and setting out straight lines on site has been somewhat challenging – if you look very closely at this photo you can just about make out Annette and Helen shivering at the other side of the garden as targets for a line for our trees!
Plans are afoot to apply for funding to help restore the original garden bothy buildings outside the north wall at the walled garden. This will be a long term project, looking to create a small commercial kitchen with a room for shelter, tutorials and a public space for the presentation of the concept of the garden restoration and some information on walled gardens in East Lothian in general.
We would appreciate any help that might be out there for the progression of this project – if you have any ideas or feel you might be able to help in any way, please get in touch.
Our thanks out to the Criminal Justice Team who have been tackling the digging out of the floor in here in between our volunteer sessions.
June Tainsh
Project Manager
Gillmerton House Kitchen Garden
june@gilmertonhouse.com
tel 01620 880207