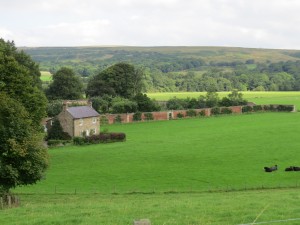 House for long let with walled garden, deep in the Northumberland National Park near Bellingham. A garden-loving tenant is sought for this newly restored south-facing stone house next to its own 2.2 acre 18th Century walled garden and orchard. It has 3 bedrooms, 2 bathrooms, 2 reception, oil CH, greenhouses, a garage and numerous outbuildings. The rent is negotiable in the region of £650 per month.
Anna Charlton writes: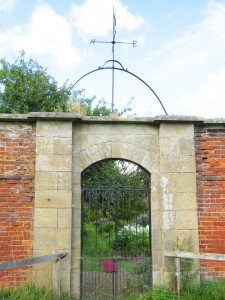 Hesleyside Hall is the only large historic house in the Northumberland National Park and has been the ancestral home of the infamous Border Reiver Charlton clan since the reign of Richard I. It is getting increasingly difficult to maintain and conserve the Hall and since taking on the family business, we've have been looking for ways to diversify, increase the income of the Business and hence attend to urgent repairs. We've also been keen to open up and share the beautiful interiors and surroundings of Hesleyside and encourage visitors to stay and enjoy this idyllic, rural and historic location. We now have a successful Glamping business, have B & B in the house, fishing, and an annual mud run.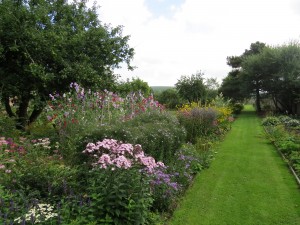 The grounds were landscaped by Capability Brown but the walled garden was built in 1715. The two acre garden was built using thousands of small form red bricks fired at the Charlton's brick works at Brieredge Farm and capped with quarry cut sandstone is set some distance from the main Hall on a fertile, flat and sunny land. The wall extends to a length of 330 yards and are two feet thick. The 120 yard long south wall is 11ft high and the back wall increases to a massive 18ft 6in.These walls not only offer shelter from the wind but act as a "storage heater", the daytime heat from the sun being naturally stored by the clay brick to warm the air at night.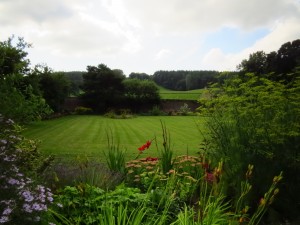 The back wall is in a dangerous state and if left any longer is in danger of collapsing hence we are investigating grants and business ideas to help with the repairs of the walls and the gardening upkeep. The current tenants of Garden cottage, which is adjacent to the walled garden have enjoyed a reduced rent in exchange of the gardens upkeep. They are retiring next month and moving out leaving us with a dilemma. We wish to maintain and improve the garden, which is mainly lawn and ornamental borders and cannot afford to employ a full time gardener. Options such as renting out the walled garden, renting out the cottage (2/3 bed) and garden or supplying the garden and cottage for free rent for one year to improve the garden.
Contact Anna; anna@hesleyside.co.uk
Link to the main Hesleyside website;      www.hesleysidehall.co.uk