JAN/FEB 2017 MUSINGS by Maz
Gardening Volunteer at Tatton Park Walled Kitchen Garden, Knutsford, Cheshire
I start my blog with good wishes to all WKGN members for a splendid gardening year. My thanks to the lovely Elizabeth for her words of encouragement.
A grey day didn't dampen the spirits of 15 of the Tuesday Team as they started their garden volunteering year with a walk through the Parkland, passing the two herds of Red and Fallow Deer, and the Millennium Wood, to Knutsford for coffee at a Turkish Café, then back to Tatton for lunch in the Stables Restaurant. This now traditional walk gears us up to start back to work the following week.
Our first Tuesday back at work coincided with the old calendar 12th night, when orchards rang to the sound of Wassailing – singing to the apple trees of hopes for a good harvest. We decided to carry on the tradition in good voice after lunch, having had a small birthday glass of grape juice; sadly, apart from the Head Gardener, the gardeners were too shy to join us, but regular visitors did, with gusto. Then it was back to work winter pruning the freestanding pear and apple trees, 'rhodo-bashing' to clear the view to the Japanese Garden, and leaf clearing from the lawns and nooks and crannies after the strong winds.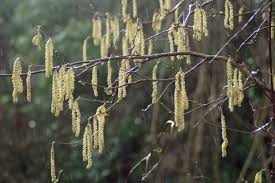 A simply heart-lifting gorgeous sunny day, lighting up the hazel catkins, snowdrops, crocus, celandines and shy buds on the fruit trees greeted us. Work was much the same as last week and the lawn edges to the paths in the Orchard were trimmed back so that the Victorian tile edgings emerged blinking in the sunlight.
Another fine but cold day; the Team were busy in the Kitchen Garden spreading well rotted manure from the Home Farm and aged leafmould over the growing beds.
The next Tuesday saw the Half term Scarecrow Festival in full swing, with lots of excited small children searching for the scarecrows and 'scarefairies' scattered throughout the garden, marking them off on their score cards.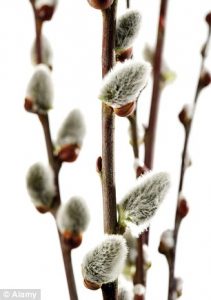 Storm Doris played rough in the Gardens and Parkland, and the entire Estate was closed to the public for a day. There will be much clearing up of brash and fallen trees in both the Gardens and Parkland. The deer in the Parkland have enjoyed stripping off the bark from the branches, in a change of diet from their carrot supplement.
Pancake Day saw snow falling and covering everywhere in white for a time, then it turned to heavy rain. It was fascinating to watch the snow slowly slide down the roofs of the glasshouses and form mini snowmen on the ground below.
The Team were busy helping clear up the mess left by Storm Doris and Storm Ewan in the Gardens.
I am delighted my wish to have the pleasure of reading blogs from other members and their gardens/projects this year has been realised with the first blog from Gilmerton House Gardens – thank you.
My next blog will be at the end of April, otherwise I could hog all the space. J